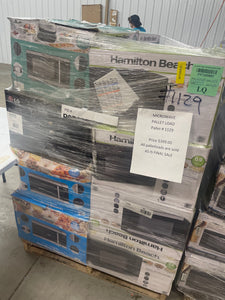 MICROWAVE LIQUIDATION PALLET - sealed at Wallyworld warehouse- pallet 1129
Regular price $399.00 Sale
MICROWAVE LIQUIDATION PALLET - sealed at Wallyworld warehouse 
$399 
SPIN THE WHEEL TO WIN DISCOUNT AT CHECKOUT!
Easy installment payments available at checkout !
STOCK UP FOR CHRISTMAS SALES SEASON!!!
How to purchase our wholesale Palletloads   
Also available now on our smartphone app or online catalog!
Here's a link to our online catalog liquidation pallet section-
https://bigcatchstore.com/collections/liquidation-pallets
ALL PALLETLOADS ARE FINAL SALE - NO RETURNS
1.  Come to our store warehouse and inspect pallet loads-or call store to purchase- 570-739-1006
2. Pull tag on pallet load that you want and take to checkout.
3. Pay at checkout counters with credit card or cash.
4. Our warehouse guys will either forklift your pallet into your truck or trailer- or place alongside your vehicle if you prefer to hand load into your vehicle
Here's our store information
The Big Catch Salvage and Thrift Store
Located at 614 S Route 183, Schuylkill Haven, Pa 17972
Phone- 570-739-1006
Tues 10 am to 5 pm-
Weds 10 am to 5 pm
Thurs 11 am to 7 pm -
Friday 10 am to 5 pm -
Sat 9 am to 4 pm-
closed Sundays and Mondays
 $399 
BUY NOW - CLICK THIS LINK BELOW-
https://big-catch-salvage-and-thrift.myshopify.com/cart/40501983379554:1?channel=buy_button